At the beginning of 2014, Great Wall Lubricants created a pioneering initiative in the lube industry through innovative " one-stop " services, providing a package of solutions for consumers' lubrication problems through online and offline methods. Not only has it achieved its own service upgrades and profitability enhancement, it has also become a model for promoting the prosperity and development of the industry.
Enter the homes of ordinary people to improve their profitability
From an in-depth consumer perspective, "one-stop" services can be used to bring lubricating oil to the homes of ordinary people. From individual to collective, Great Wall Lubricants has gained more potential consumers through one-stop service interaction.
Great Wall Lubricant's five sales centers integrate technology, sales, and service into one unit to make full use of it. No matter where consumers are located or whether they are already Great Wall Lubricants consumers, they can use "one stop". Services, put forward their own lubrication problems or lubrication requirements, enjoy the no-threshold, open service provided by Great Wall Lubricants. Great Wall Lubricating Oil has also been able to face consumers directly and provide them with targeted products and services. No matter whether it is technical advice or matching of lubrication products, it can be solved one by one. This virtually makes the service a front-end for sales, thereby reaping a large part of SME users who have special lubrication needs and are exploring the demand phase. Great Wall Lubricant's move is aimed at the traditional consumer groups with the largest demand for products and services. At the same time, it enables the customer base to expand, completes its own customer structure, and improves profitability naturally.
Discovering blind spots in the market leads the industry to flourish
With the improvement of China's industrialization level, small and medium-sized industrial enterprises have also mushroomed and flourished. Correspondingly, the prospects of this part of the lubricant market are also good, but lubricants started as traditional industries and the service industries are relatively mature and fixed. At the same time, small and medium-sized enterprises are also constrained by the small scale of production and special lubrication requirements, resulting in lubricant companies lacking in-depth understanding and attention and becoming blind spots in the market. The launch of Great Wall Lubricant "one-stop" service can be regarded as an exploration of leading industries. Enlightened lubricants companies find and develop other users than traditional large-scale industrial users, and promote the prosperity and development of the entire lubricant industry. Can not be ignored.
At present, although large industrial users occupy a large share of the lube market, from a macro perspective, large industrial enterprises are less vibrant than their small and medium-sized counterparts, and their lubricant oil market share is growing slowly. Obviously, the lubrication of the small and medium-sized enterprises has become a huge and delicious cake. The situation of the lubricants companies at the beginning of this situation is so improbable. The launch of Great Wall Lubricant's "one-stop" service has just provided the industry with a "tool" that has helped many lubricant companies find more potential customers. After such a tool is called, everyone will not continue to hold. How to divide this "cake" with better quality and service is the next concern.
Great Wall Lubricant's service upgrade is a brand-new attempt in the industry, and it is also a brand-new challenge. The launch of this service will continue the strong vitality and brand competitiveness of Great Wall Lubricant Products, and will continue to pilot the development of China's lubricant industry in the future market competition.
Comb idler is made by plain roller with welded spiral steel. It's used for cleaning conveyor belt. comb idler is setting in the position where unwanted debris will stick to the belt seriously. It removes the sticky material to keep belt clean and running stable, avoid misalignment. Usually, it's used in conjunction with sleeve rollers at the beginning of return run. comb idler roller diameter is fromφ76 to φ219
Comb Idler used in acid and alkali resistant industry of conveyor, comb idlers can replace the metal roller , nylon roller , long life , easy installation , custom center smooth transportation , reduce conveyor belt deviation and protection conveyor belts and other characteristics . comb roller superior performance than traditional iron roller , low wear coefficient , the proportion of small , light weight , easy to replace , and the low noise , smooth operation , more suitable for the working environment of the production conditions , high service life.
| | | |
| --- | --- | --- |
| Comb Idler | | |
| Diameter mm | Length (Tube) mm | Bearing |
| 89 | 315.380.465.600.750.950.1150 | 6204 |
| 108 | 315.380.465.600.700.750.790.950.1150.1400.1600 | 6205 |
| 133 | 465.600.700.750.790.800.900.950.4000.1100.1150.1400.1600.1800.2000.2200 | 6305 6308 |
| 159 | 600.700.790.800.900.950.1000.1050.1100.1120.1150.1250.1400.1500.11700.1800.2000.2200.2500.2800.3000.3150. | 6306 6308 |
| 193.7 | 1100.1250.1400.1500.1600.1700.2200.2500.2800.3000.3150 | 6308 |
| 219 | 2200.2500.2800.3000.3150 | 6310 |
Comb idler usually use big clearance deep groove ball Bearing For Conveyor Idler roller.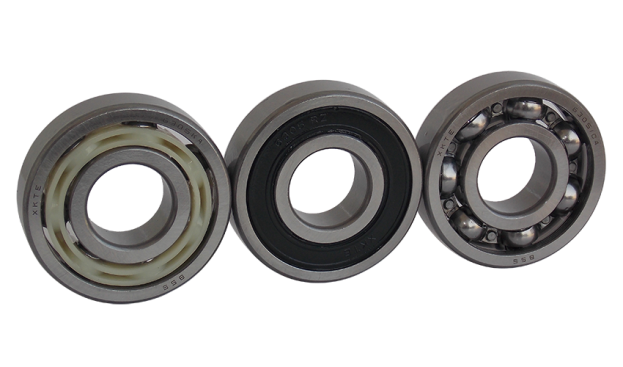 To be the first class, to do the best quality, to make users satisfied, to ensure customers relieved, are our enterprise purposes. Welcome bearing dealers` and Conveyor Idler manufacturers contact from all over the world, and become our partner.
Comb Idler
Comb Type Cleaning Roller,Comb Cleaning Roller,Comb Idler
Shandong Xinkaite Bearing Co., Ltd. , http://www.idlerbearing.nl