Pressure Chamber Structure:
Vertical
Casting Surface Quality Level:
2
Weight Available:
0.02 Kg to 10 Kgs
Machine Size:
25-800 Tons
Process:
Cold Chamber Die Casting
Material Available:
ADC10, ADC12, A380, 383,B390
Finish:
Painting, Plating, Polishing
Tolerance:
+/-0.05mm, Post Processing Is Available
Molding Process:
Die Casting
Cavity:
Single or Multiple
Port of Loading:
Xiamen Port
Served Industry:
Auto Parts, Medical Appliance, Electronies
Trademark:
STK or Customized
Specification:
ISO 9001: 2000
Aluminum Die Casting Alloys:
u 
Lightweight
u 
High dimensional stability for complex shapes & thin walls
u 
Good Corrosion Resistance & Mechanical Properties
u 
High Thermal & Electrical Conductivity
u 
High Strength at High Temperatures
At STK, all Aluminum die casting
tooling
is
designed
and built in-house to meet both the customer's and STK's own exacting standards. Production processes for each project are carefully planned, documented and monitored utilizing various statistical process control techniques.
Production Capabilities:
Automated equipment can handle high volume casting jobs of up to 100,000 pieces per week

Manual machines for low volume jobs of as little as 500 pieces per year

Can cast from 0.02 to 10kgs

Single to Multiple Cavities

Most Aluminum die casting alloys are offered such as ADC10, ADC12, A380, 383, B390 (YL117), YL112, YL104

10 die casting & gravity casting lines. Each with an individual aluminum furnace which allows us to cast multiple alloys

7 sets of Cold Chamber Die Casting Machines. Range from 125 Tons to 800 Tons. And 3 sets of Gravity Machines.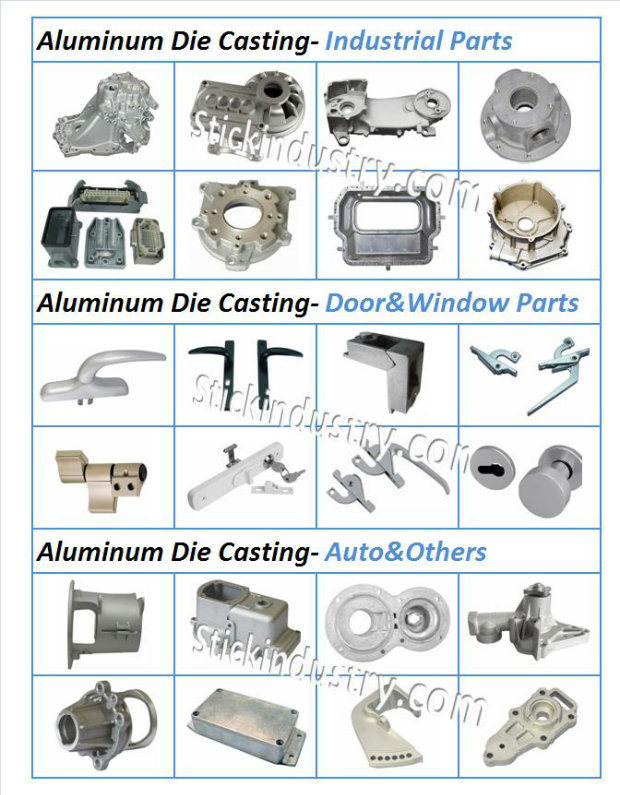 | | | |
| --- | --- | --- |
| EQUIPMENT LIST | CAPACITY | QTY |
| COLD CHAMBER DIE CASTING MACHINE | 125 TONS | 2 SETS |
| COLD CHAMBER DIE CASTING MACHINE | 250 TONS | 2 SETS |
| COLD CHAMBER DIE CASTING MACHINE | 350 TONS | 1 SET |
| COLD CHAMBER DIE CASTING MACHINE | 650 TONS | 1 SET |
| COLD CHAMBER DIE CASTING MACHINE | 800 TONS | 1 SET |
| GRAVITY MACHINE | 750mm*630mm | 3 SETS |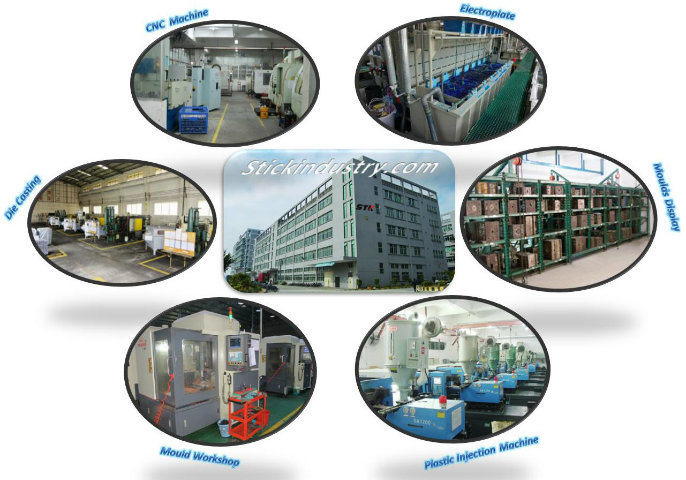 Tooling Leadtime:

 4-7 weeks

Tooling Lifetime:

50000 shots to 500000 shots

Weight per unit:

Can cast from 0.02 to 10kgs per piece

Tolerance:

+/-0.05mm (secondary machining is available for tight tolerance)

Materials Applied:

ADC10,ADC12, A380, 383, B390 (YL117), YL112, YL104

Surface Finish:

Shot blasting
Parting line removal
Chrome Plating
Powder coating
Painting
Anodizing
Passivation
E-coating
T-coating
 
Molds Created On-Site
Stick Industry is a full-service mold manufacturing facility

Stick Industry offers in-house tooling design and production.

Stick Industry creates a custom mold on-site, then transfers the mold to die-casting area.

Stick Industry is capable to obtain the relevant data to produce molds and product samples according to the latest3-D solid model and a simple sketch or a sample part.

Stick Industry uses the most modern multi-axis CNC machine tools for optimum precision and accuracy in tooling.
 
Our Advantage:
l 
In house tooling design and fabrication
l 
Owned die casting, polishing and plating workshops
l 
Advanced equipment and excellent R& D Team
l 
A broad variety of ODM& OEM product range
l 
Strict quality Control System
 

State-of-the-Art Cast Finishing
The STK facility offers a complete in-house, independent machining facility with the latest CNC mills and lathes to provide fully machined castings. Our sanding and surface finishing capabilities include:
u 
Short Blasting
u 
Parting Line Removal
u 
Chrome Plating
u 
Powder Coating
u 
Painting
u 
Anodizing
u 
Passivation
u 
E-Coating
u 
T-Coating
Bolt Bonnet Gate Valve with ASME, DIN, GOST or EN standard is the best popular type shut off valve in any kind of low pressure industrial pipelines, Class 150(PN16) to Class600(PN100) matching valve size from 2"(DN50) to 40[(DN1000), which can be operated by electric actuator or handwheel. Bolt bonnet Gate Valve normally with flange ends connection with industrial pipeline as well as welding ends. Valve material can be carbon steel, stainless steel, alloy steel or special steel according the requirements of the working medium.
Bolt Bonnet Gate Valve
Bolt Bonnet Gate Valve,Manual Gate Valve,Stainless Steel Gate Valve,Motor Gate Valve
Yongjia South Trading Co.,Ltd , https://www.n-lvalve.com